Wasa Lake Provincial Park is located in south eastern British Columbia, 40 km north of Cranbrook (just off of Highway 93 north of Fort Steele) or 102 km south of Radium Hot Springs and 1 km east of Highway 93/95. The closest communities are Kimberley located 35 km north west and Cranbrook located 40 km south of Wasa Lake.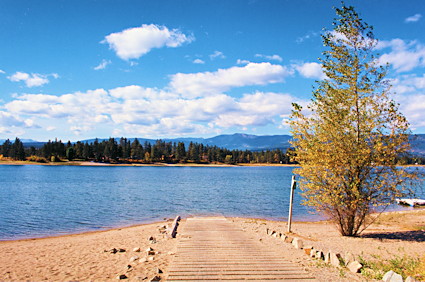 This 144 hectares park is one of the most popular in the east Kootenays region. A family vacation destination since the 1950ís, Wasa Lake village advertises 'the warmest swimming lake in the Kootenays'.
A large seasonal campground, day-use/picnic area, hiking trails to wildlife viewing stations, swimming. cycling, boat launch and angling opportunities for largemouth bass in Wasa Lake are just some of the parks features. There is an 8 km wheelchair and bike accessible trail around the lakeshore and a 2.7 km self-guided interpretation trail. Angling in the surrounding waterways may also prove productive.
Nearby world class attractions such as Fort Steele Heritage town, guest ranches, ski hills and golf courses make Wasa Lake Provincial Park a popular recreation spot.