These vacation providers offer a wide range of outdoor recreation in the Canadian Rockies.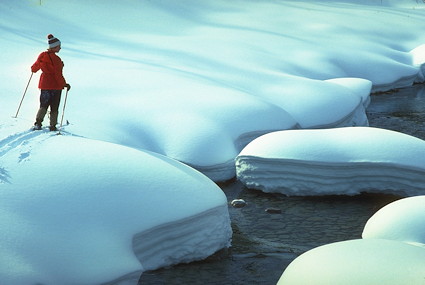 Recreation In The Canadian Rockies National Parks
The National Parks in the Canadian Rockies are protected areas that show off the finest in scenery; our abundant wildlife and offer opportunities for true outdoor recreation. Mountain activities range from scenic drive to backcountry camping and backpacking. Banff, Jasper, Yoho, Kootenay Parks and the Icefields Parkway offer the finest in outdoor recreational activities.
Each National Park is unique with its own characteristics, but the activities are basically the same.
Backpacking & Backcountry Camping: Before you head out on an overnight trip you need a Wilderness Pass. These passes are available at all Park Information Centres.
Hiking & Walking: There are hundreds of trails. They vary from an easy walk or stroll to challenging treks into alpine meadows and mountain terrain.
Biking: Some park trails are designated for mountain bikers only. Remember wear a helmet and visible clothing. Rentals are available.
Mountaineering: Experienced climbers come from all parts of the globe to climb the Rockie Mountains.
Wildlife Viewing & Photography: Viewing the abundant wildlife within the park boundaries is best in the early morning or early evening. Never feed the animals and always give them the right of way.
Swimming & Hot Springs: The smaller lakes offer excellent swimming. And if you want to really relax and soothe the body, there are hot springs and pools in Banff, Jasper and Kootenay.
Horseback Riding: Guided horse trips are available from outfitters. You can head out on your own, but a Wilderness Pass and a grazing permit are needed for any overnight stay.
Boating & Canoeing: Non-motorized crafts are allowed on most lakes and rivers. The rivers in the mountains can present a variety of hazards, so knowledge and experience are called for. Commercial boat tours are offered on some of the larger lakes.
Fishing: You must have a national park fishing permit. Go out on your own or hire a fishing guide. Because park waters are not stocked, catch and release angling is encouraged.
Camping: Each park offers excellent overnight camping facilities. Camp only in designated campgrounds. The demand during the summer months is very high and sites cannot be reserved ahead of time. So itís best to arrive early.
All mountain parks offer interesting scenic drives with roadside viewpoints and some have interpretive exhibits.
Skiing: The mountains in this region offer world class skiing. There are four downhill ski areas and a number of cross-country ski areas within the boundaries of the National Mountain parks. When snow covers the mountains, snowboarders, downhill and cross-country skiers from all corners of the world flocked to the region.
For information on mountain activities, check with the Park Information Centres found in each one of the National Parks. They can also supply you lists of businesses that offer rental equipment and guiding services.