Mount Robson Provincial Park, the second oldest park in British Columbia's park system, is truly one of the world's crown jewels. It is 224,866 hectares of stunning mountains, valleys, and waterways. Forests of spruce, fir, balsam, cedar and alder are home to an abundant array of wildlife including mountain goats, moose, deer, elk, marmot and squirrels and chipmunks. Mount Robson has it all, from vehicle-accessible camping sites to pristine wilderness valleys.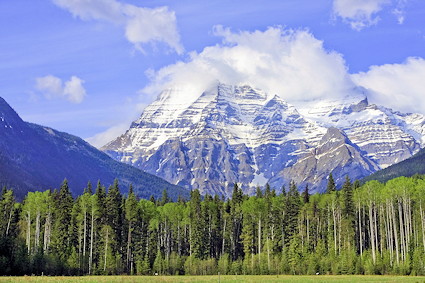 Mount Robson, located at the park's western entrance, is the Provincial Park's namesake peak and the highest in the Canadian Rockies at 3954 metres, towering over the surrounding peaks. This is one of the finest views in the Rocky Mountains.
Along with it's eastern neighbour, Alberta's Jasper National Park, Mount Robson Provincial Park is a part of UNESCO's Canadian Rocky Mountains World Heritage Site, one of the world's largest blocks of protected areas.
Mount Robson Provincial Park also protects the headwaters of the Fraser River. From its pristine alpine source, the Fraser River grows to be on of the world's major rivers. The Rearguard Falls of the Fraser River is the furthest migration point of the Pacific salmon.
The park is located in east, central British Columbia, just west of the British Columbia/Alberta border and Jasper National Park. Approximately 4 hours north of Kamloops, BC on Highway 5; 3 1/2 hours east of Prince George, BC on Highway 16; and 5 hours west of Edmonton, Alberta on Highway 16. The closest communities to this park are Valemount, Tete Jaune Cache and McBride. Access to Mount Robson Provincial Park begins at Tete Jaune Cache which is located on the Yellowhead Route (Highways 5 and 16).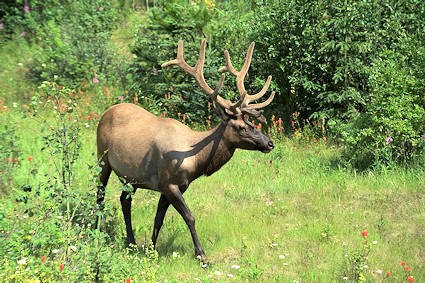 Camping - There are three seasonal campgrounds which provide water, toilets and firewood: Robson Meadows (125 sites), Robson river (19 sites) and Lucerne (36 sites). Wilderness camping is permitted in designated areas. Picnic areas and a sani-station are located nearby.
Fishing and Hiking - Boat launching ramps are available at Moose and Yellowhead Lakes. Dolly Varden, kokanee and rainbow trout are resident in the glacial lakes and rivers of the park.
Hiking and Trails - Extensive trails and routes lead the outdoor enthusiast to the parks scenic features.
Necessary supplies, accommodation and meals are available at Tete Jaune Cache, Valemount, McBride and Jasper National Park townsite.