Mount Revelstoke National Park in British Columbia, Canada, is located in the Selkirk Mountains and covers 260 square kilometres. The city of Revelstoke is located at the parks entrance and is 637 km (398 miles) from Vancouver. The Trans Canada Highway #1 passes through the southeastern section of Mount Revelstoke National Park.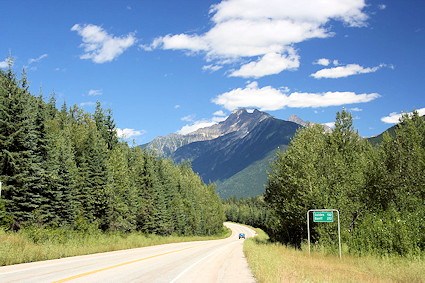 Founded in 1914, Mount Revelstoke National Park contains part of the world's only temperate inland rain forest. Steep, rugged mountains can be found in a warm, moist climate. A variety of plant and animal life is typical with stands of old-growth Western Redcedar and Western Hemlock, a forest type which is rapidly declining outside of protected areas. The park's inland rainforest also has an isolated population of banana slugs which marks the eastern boundary of their distribution in North America.
The park also protects a small herd of the threatened mountain caribou and provides habitat for grizzly bear and mountain goat. The park is very different from the Rocky Mountains to the east and the Coast Mountains to the west.
The Meadows-in-the-Sky Parkway is a paved mountain road open during the snow-free months. The parkway begins in the rainforests of the park's southwest corner, winds upward through the sub-alpine forests and ends in the rolling sub-alpine wildflower meadows. The Monashee Mountains rise to the west, with the Selkirk range to the east.
Mount Revelstoke National Park offers access to numerous hiking and cross-country skiing trails leading to various scenic attractions and alpine meadows. The wide array of impressive plant and animal life is a nature-lovers paradise. The 1938 metre (6356.6 ft.) summit which is 26 road km (16 miles) from the parks entrance is the head of several trails varying in difficulty. This road is open from early to mid-July and closes mid-October.
There are over 64 km (40 miles) of trails in Mount Revelstoke National Park. There are also a series of cross-country ski trails available.
Giant Cedars Boardwalk is a 500 m. (0.3 mi.) interpretive trail that twists through a stand of old-growth western red cedar and hemlock trees, some more than 800 years old. Exhibits along the way explore the secrets of this inland rainforest.
Skunk Cabbage Boardwalk is a 1.2 km. (0.75 mi.) interpretive trail that leads through valley bottom rainforest and fragile wetlands inhabited by muskrats, beavers, bears and the strange skunk cabbage plant. Exhibits also help to identify the many birds that migrate from South and Central America to the Skunk Cabbage area each year. It is a beautiful, easy walk.
There are back country campsites located at Eva and Jade Lakes. These are primitive facilities and no fires are permitted.