Glacier National Park is one of seven national parks in British Columbia, and is part of a system of 43 parks and park reserves across Canada. Glacier National Park is 1,349 km2 (521 sq mi) in area and was established in 1886. The visitor centre at the Rogers Pass Summit is 342 km from Calgary and 643 km to Vancouver. The nearest communities are Golden, 80 km to the east, and Revelstoke, 72 km to the west. Information can be also be found in nearby Revelstoke.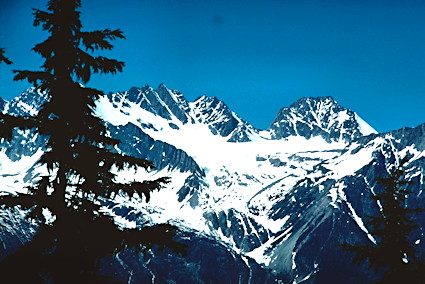 Glaciers cover much of the challenging terrain in the park, which is dominated by 10 peaks ranging from 8,530 to 11,120 ft (2,600 to 3,390 m) in height.
Steep, rugged mountains, a wide variety of plant and animal life, and a warm, moist climate are typical of this natural regions.
The park protects a portion of the Columbia Mountains that contain unique stands of old-growth cedar and hemlock, as well as critical habitat for threatened and endangered wildlife species such as the Mountain Caribou, Mountain Goat, Grizzly Bear and Canadian Lynx.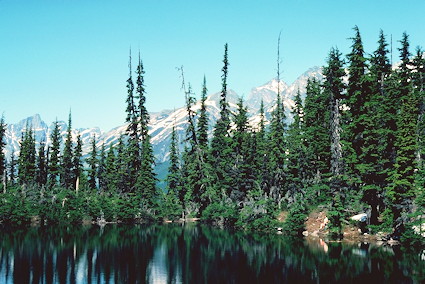 The Selkirk mountains that align the Rogers Pass are far older and much harder than the neighboring Rockies. The towering Selkirks catch the moist pacific air travelling from the coast. Rogers Pass gets an average of 15 metres of precipitation each year.The Trans Canada Highway system runs through Rogers Pass, completed in 1962, the highway is now monitored by the most advanced avalanche control system in the world.
There are currently two campgrounds in the park: Illecillewaet Campground (60 vehicle/tent sites) is centrally located near Hwy 1 and has kitchen shelters and washrooms with flush toilets (no electrical hookups or RV sani-station). Loop Brook Campground (20 vehicle/tent sites) is farther west than Illecillewaet and has similar facilities. A third was closed in the early 1990s due to widespread root rot in the trees.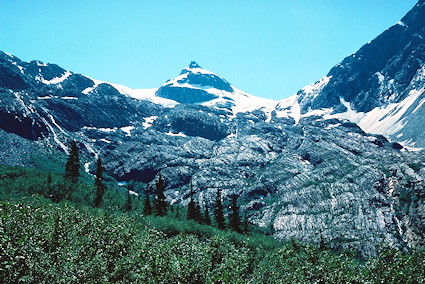 There are two designated backcountry campsites in Glacier National Park with tent pads and food storage poles. A Wilderness Pass is required to camp in the backcountry. With Glacier's deep snowpack, none of the campsites are actively maintained during the winter. There are also three backcountry huts, however the access is arduous, and mountaineering expertise is necessary for two of them.
The Rogers Pass National Historic Site is located in Glacier National Park. Rogers Pass was so designated for its importance in the construction and development of the country's first major national transportation route.