Fort Steele Heritage Town is a piece of living history, with over 60 heritage buildings including the Wild Horse Theatre Shows, Living History Street Dramas, Steam Train Rides, Horse-Drawn Wagon Rides, International Hotel Restaurant, Prospector Print Shop, City Bakery, Kershaw's General Store, Mrs. Sprague's Confectionery, and the Hose Reel Race.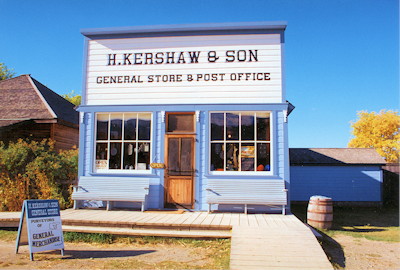 Originally called "Galbraith's Ferry" after John and Robert Galbraith that started a cable ferry across the Kootenay River. The community was later renamed Fort Steele in honour of Sam Steele of the North-West Mounted Police.
Fort Steele grew into a commercial centre, shipping lead, zinc and silver from Kimberley's North Star Mine to smelters in the United States. However, when the railway bypassed the centre in 1898 the town was gradually deserted.
Back to life, visitors to Fort Steele Heritage Town can enjoy first-class musical comedies, scripted street dramas, food at the International, and much more.
Follow Highway 93/95 16 km north of Cranbrook.