100 Mile House is a district municipality located in the South Cariboo region of central British Columbia, Canada, and is the primary service centre for the South Cariboo. The community has a population of approximately 2,000. The service area has a population roughly ten times the size of the town.
100 Mile House is a centre for outdoor activities and is becoming increasingly known for its richness of bird life. The surrounding area features many lakes for boating and fishing, that offer lodges and resorts for family vacations or wilderness experiences. The Cariboo ski marathon attracts a large and international field of cross-country (Nordic) skiers.
North of 100 Mile House is Lac La Hache (17 km), 150 Mile House (83 km), Williams Lake (97 km), and McLeese Lake (142 km). Also located north of 100 Mile House is Quesnel (218 km) and Prince George (335 km). South-East of 100 Mile House is the Interlakes area and Bridge Lake (46 km). South of the town is 70 Mile House (50 km), Clinton (81 km), Cache Creek (120 km), Spences Bridge (168 km), and Vancouver (469 km).
Header image: Bridge Creek in Centennial Park. Chris Harris Photography. Images provided courtesy of the District of 100 Mile House.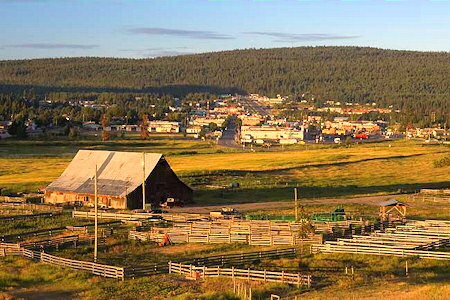 The community's origins date back to a collection of ramshackle buildings that served as a resting point for travellers moving between Kamloops and Fort Alexandria, which was 98 miles (158 km) north of 100 Mile House farther along the Hudson Bay Company Brigade Trail. It acquired it's current name in 1862 when a roadhouse was constructed, at the 100 Mile mark (100 miles/160 km) up the Old Cariboo Wagon Road from Lillooet, to serve the needs of those travelling to the Cariboo Gold Rush.